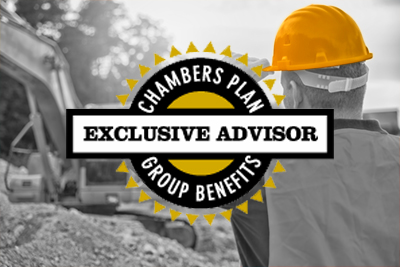 The Chambers Plan is Canada's leading group benefit plan for Chamber Member businesses with 1-50 employees. Learn more.
All Chamber Members are eligible to participate!
Not yet a Chamber Member? Learn more at tbchamber.ca.
Group Extended Health Care Benefits
The public healthcare system is designed to provide Ontario families with basic healthcare coverage. Extended Health Care Benefits are designed to fill in the gaps. Details of exactly what is covered, how much the plan pays, and what the deductible amounts are vary among plans.
Extended Health Care benefits can include a combination of the following features:
Hospital care: semi-private hospital room in the plan member's province
Prescription drugs: medication prescribed by a doctor
Medical services and equipment: private duty nursing, ambulances, crutches, hearing aids, etc.
Paramedical services: chiropractors, naturopaths, podiatrists, etc.
Vision care: eyeglasses and contact lenses
Emergency Travel Insurance
Let's talk about your business and the people in it: we're here to do the groundwork and can design a plan just for you.
Group Dental Benefits
Basic dental coverage typically includes:
Check-up visits and detailed dental exams
Scaling, polishing and Fluoride
Dental x-rays, periapical films and panoramic film
Fissure and pit sealants
Minor restorations that may include fillings and prefab crowns
Oral surgery – The removal of erupted or impacted teeth or residual roots, any needed anesthesia
Based on the composition of your workforce, dental plans can be customized to include specialized care, including:
Endodontic and Periodontal Procedures
Root canal therapeutics
Gum treatments
Major Dental Coverage
Crowns and onlays, dentures and bridges
Denture relining and rebasing, the repair of dentures or bridgework
Orthodontic Dental Coverage
Orthodontic exams, casts, x-rays
Braces and retainers for any children under the age of 17
Group Life Insurance
A Group Life plan is designed to provide coverage to your employee's family in the event of their death. This benefit is scalable based on your needs and budget, and employees will pay their premiums via payroll deductions.
Group Optional Life Insurance
Plan members can opt to add optional life coverage, providing more money in the event of a death with group rates. Employees can top up their life insurance with up to $500,000 in optional insurance. This is completely up to the individual employee and does not come with increased cost for your firm.
Group Accidental Death and Dismemberment Insurance (AD&D)
Safety is a priority for any business, but unfortunately tragic accidents can happen. This benefit provides employees and their families funds in the event of a death, paralysis, loss of a limb, speech, sight or hearing due to an accident.
Group Dependent Life Insurance
This benefit provides funds in the event of a death of an employee's spouse or dependent children.
Group Critical Illness Insurance
A critical illness can dramatically impact your life and your ability to earn an income and provide for your family. This type of situation is stressful for anyone and it's a sad reality for many workers. Critical illness insurance is designed to provide your workers and their families with the funds needed to meet ongoing financial demands, protecting them from hardship and giving your critically ill staff the opportunity to focus on their health and recovery.
Whan a covered employee is diagnosed with a major illness, Critical Illness insurance provides a lump-sum payment as early as 30 days after diagnosis. This will not only protect the family from financial hardships, but it will also allow your employee to focus on your health and recovery.
Group Disability Insurance
Disability insurance is designed to provide financial protection in the event of an injury or illness that impairs one's ability to earn an income. Typically, the benefit will provide either short term or long-term funds to cover treatment costs and pay for necessities during the recovery period.
Group Travel Insurance
Whether your people travel for business or pleasure, make sure you've packed them travel insurance as protection against the unexpected. Travel insurance can cover trip cancellation, interruptions in travel plans, or medical expenses.
Group Pension & RRSP
Hire – and keep – the best staff by offering a pension plan! A pension plan promises your staff better financial health during retirement and can be a significant part of an employee's total compensation, improving their commitment and job satisfaction. A group plan offers more buying power because your contributions are pooled and invested with many others, resulting in fees that are generally lower than those you'd find as an individual investor.
There are a number of options available based on your goals for your program. For example, voluntary plans allow those employees who are interested to participate in the program with convenient features like payroll deduction. Alternatively, a contributory plan could be established where the company is providing a matching element.